Sayadaw Bhaddanta Kaythawa was born on Monday, the 2nd waxing day of Taboung in 1300 of the Burmese calendar year ( March 6th 1939) to U Hnyum and Daw Dwe from The Su Village, Winndwin Township, Mandalay Division, Burma (Myanmar).He obtained Samanera (Novice) at the age of thirteen, under the preceptor-ship ofVenerable Bhaddanta Thawmana Abbot of Kyaungthit Monastery. And later ordained as a monk at the same monastery. His supporters of the four requisites were U Bo Thwe and Daw Mya.
He studied Buddhist scriptures under Kyaungthit Sayadaw of Winndwinn, Set Oo Sayadaw of Meikhtilar, Wai Pon La Sayadaw of Meikhtilar, and Bingalar Sayadaw of Yangon.
He also contributed by teaching Buddhist scriptures while he was in Set Oo Monastery of Meikhtila, Bingalar monastery of Yangon and Aye Nyein Chantha Dhamma Yeiktha of Yangon. In August 1st 1978, he came to the United States along with Taung Pulu Sayadawgyi U Nandeeya and stayed back to further his studies as well as to teach the Burmese religious scriptures. Since 1991, he has been resident Abbot of the Bur-mese Buddhist Temple in Chicago.
He has also organized the establishments of the Dhammarekkhita Buddhist Monastery in Fort Wayne, Indiana . and the Taung Pulu Monastery in Bolder Creek, California. He has extensively travelled to Europe, Japan, Cambodia, Laos, and Thailand, spreading Buddhism. He has achieved Associates Degree (AA) in general studies and arts from Truman College of Chicago, Illinois USA. He was honored with the Aggamahapandita Title by the Burmese Buddhist Council in Myanmar on January 4th 2005.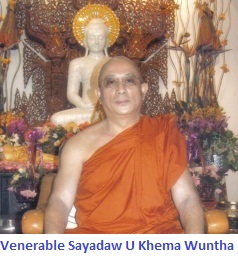 The Venerable Sayadaw U Khema Wuntha was born on Monday, the 15th. of September, 1947 to U Khin Tun and Daw Khin Kyi from Rangoon, Burma (Myanmar).
He holds a BA (Law) and LLB degree from the Burmese University and was called to the Bar in 1972 and was admitted as an advocate. He worked as a government law officer and later practiced as a lawyer and migrated to the US in 1983.
He was ordained Samananera (Novice monk) and later as a Bhikkhu (full fledge monk) in 1985 under the preceptor of the most Venerable Bhaddanta U Panna Vamsa, Chief Monk of Dhammikarama Burmese Buddhist Temple, Penang and Chief monk of the Burmese Buddhist Temple in Los Angeles, America. His supporters of the four requisites were the community of Burmese people in Los Angeles, America.
Since then he was stationed in Toronto (Canada) Burmese Temple, Burmese Temple in Penang (Malaysia), He organized and start the Burmese Temple in Kuala Lumpur (Malaysia), which was established by the most venerable Bhaddanta U Panna Vamsa. He was stationed in Sasana Ramsi Burmese Buddhist Temple (Germany) and later back to Burmese Temple in Penang.
In 2010 he was stationed back in Burmese Buddhist Temple in Los Angeles.
He travelled extensively and conduct meditation classes, Discussion (in Buddhism) classes, Dhamma Talks and mass ordination of novice monks and samaneras.
In November 2011, the Venerable moved to Burmese Buddhist Temple, Chicago, under the Burmese Buddhist Association of Chicago, by the invitation of the Board of Directors and Board of Advisor. He is residing in Chicago since then.
He has written five books (in English), including the "Four Noble Truths" which was published and distributed (book and e-book) in world wide book stores. He has published three Buddhist books (in Burmese) and written numerous articles in magazines. He published quarterly Buddhist magazine when staying in Kuala Lumpur. He attended interfaith conference and give talks.
You can Google about the Venerable in internet.